Daily Photos from Thailand
Sunday 13th September, 2009 at 18:44:31| Words: 77 words | Category: News Photos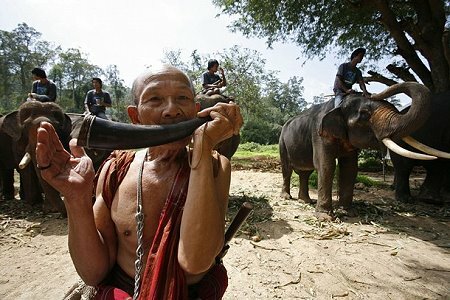 Mahout elders perform a Pa-Kam ritual, a traditional ceremony to call on mahout ancestors for good luck and safety before an elephant journey, at the launch of the Chang(e) Caravan in an elephant conservation centre on the outskirts of Khao Yai National Park, about 200 km (124 miles) north of Bangkok, September 12, 2009. The Chang(e) Caravan, involving elephants (Chang in Thai) rehabilitated by the Thai Elephant Research and Conservation Fund (TERF), aims to raise awareness about climate change.

Do you have any questions about Thailand? Maybe you are planning a holiday or just want to learn more about Thai culture. Have all of your questions answered for free at ThailandQA.com. These forums are part of the family friendly Paknam Web Network.
Visit Paknam Web for a long list of quality web sites about Thailand. All of the websites listed are guaranteed to be family friendly.
More Blogs about Thailand:
Daily Thai Videos - the best videos about Thailand
Thailand Blogs
- quality articles about Thai life and culture
Thai Culture Blogs - learn about the culture of Thailand
Thailand Blogroll
- listing the best blogs in Thailand
Richard Barrow in Thailand
- prolific writer and photographer about Thailand
\