Daily Photos from Thailand
Wednesday 20th August, 2008 at 18:10:05| Words: 205 words | Category: People in the News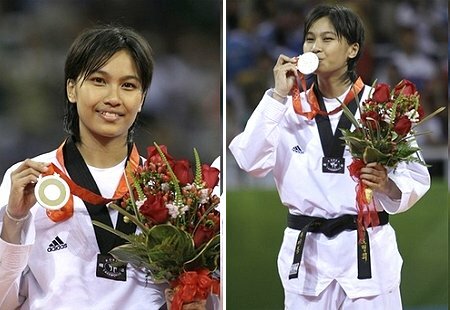 Thailand's Buttree Puedpong holds her silver medal for the women's taekwondo -49 kg class at the Beijing 2008 Olympics in Beijing, Wednesday, Aug. 20, 2008. (AP Photo/Matt Dunham)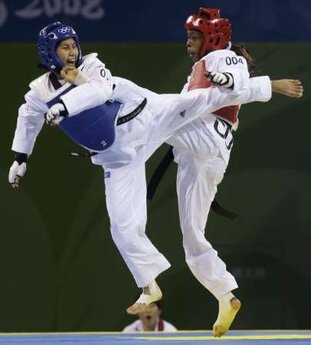 Daynellis Montejo of Cuba (R) competes against Buttree Puedpong of Thailand during their women's -49 kg taekwondo match at the Beijing 2008 Olympic Games, August 20, 2008. REUTERS/Alessandro Bianchi (CHINA)
Buttree Puedpong had to settle for a silver medal after she went down to world champion Wu Jingyu of China with the score 1:-1 in the women's taekwando 49kg final on Wednesday.
The former world junior champion is the second Thai taekwando exponent to produce an Olympiad medal after Yaowapa Boorapolchai took home the bronze medal in this same category four years ago in Athens.
She became the fourth Thai to bag medals in Beijing after Prapawadee Jaroenrattatarakoon won the women's weightlifting 53kg, Manus Boonjamnong who has already won at least a bronze following his victory in the light welterweight quarter-finals and Somjit Jongjohor who beat Anvar Yunusov of Tajikistan in the flyweight quarter-final.
Despite claiming silver, teenager Buttree is sure of returning in a blaze of glory. Aside from fame and reputation, the 18-year-old from Samut Prakan has been guaranteed of handsome Bt7.8-million cash incentives from both the public and private sectors.
Do you have any questions about Thailand? Maybe you are planning a holiday or just want to learn more about Thai culture. Have all of your questions answered for free at ThailandQA.com. These forums are part of the family friendly Paknam Web Network.
Visit Paknam Web for a long list of quality web sites about Thailand. All of the websites listed are guaranteed to be family friendly.
More Blogs about Thailand:
Daily Thai Videos - the best videos about Thailand
Thailand Blogs
- quality articles about Thai life and culture
Thai Culture Blogs - learn about the culture of Thailand
Thailand Blogroll
- listing the best blogs in Thailand
Richard Barrow in Thailand
- prolific writer and photographer about Thailand
\