Daily Photos from Thailand
Wednesday 14th November, 2007 at 21:27:49| Words: 121 words | Category: News Photos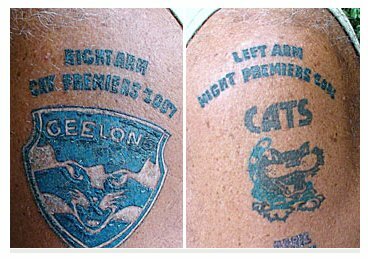 An Australian man now has "right arm" written on his right arm, just above "Gay Premiers 2007" because a Thai tattooist marked in "Gay" instead of "Day". The man had written down the details on a piece of paper for the tattooist while he was on holiday in Phuket, Thailand. He wanted different tattoos on each arm so clearly labelled each one "right arm" and "left arm" so that there was no mistake. But the Thai tattooist couldn't read English and tattooed "right arm" as well. He also couldn't read his handwriting and so tattooed "gay" instead of "day".
Full story at ThailandQA.com >>>

Do you have any questions about Thailand? Maybe you are planning a holiday or just want to learn more about Thai culture. Have all of your questions answered for free at ThailandQA.com. These forums are part of the family friendly Paknam Web Network.
Gor's Thailand Life by Panrit Daoruang

Panrit "Gor" Daoruang is Thailand's most famous teenager. Gor became famous around the world when he started writing about his life on his website. He then later wrote a weekly column for the Bangkok Post at the tender age of only 16. He writes about every aspect of Thai culture that he has personally experienced. From his own wedding to the birth of his daughter. This book is a must for anyone interested in Thai culture or who are thinking about teaching in Thailand. Not to be missed!

The book includes 32 pages of colour pictures. The author is donating 100% of his fees to a trust fund for the education of his daughter.

Buy at BuyThaiBooks.com or PaknamBooks.com (inside Thailand)
Visit Paknam Web for a long list of quality web sites about Thailand. All of the websites listed are guaranteed to be family friendly.
More Blogs about Thailand:
Daily Thai Videos - the best videos about Thailand
Thailand Blogs
- quality articles about Thai life and culture
Thailand Blogroll
- listing the best blogs in Thailand
Richard Barrow in Thailand
- prolific writer and photographer about Thailand